7-week Intuitive Eating & Empowerment Workshop
The highly sought after system for overcoming emotional eating
You're looking to end the chaos and compulsion
You want to be in control of your eating habits
But you're frustrated making zero progress and are unsure how to stop the madness
Discover what you're really hungry for in life!
Are you doing the same thing over and over expecting different results?
I get it. I've walked in your shoes and faced the same problem.
I've tried the Vegan Diet, the Paleo Diet, the Keto Diet and nothing worked.
Whatever weight I lost was just gained right back after the deprivation was over.
Join the Finally Free community and get the world's best workshop training
These workshops are fun, fresh, never boring, and unlike anything you've ever tried before.
They can be done by men or women.
Imagine… no expensive gym membership, or annoying fitness guru involved.
You'll bring yourself… and together we'll get you free from chaos and at peace with food
The problem isn't that you can't lose weight. The problem is you have used food to meet your emotional needs.
I was eating to comfort myself when I was sad
I was eating to celebrate when things went right
I was eating becuase I didn't want to say no and hurt someone's feelings
I was eating to avoid dealing with my life and how awful it had gotten
I was eating because I was bored
The solution was simpler than I thought
I never realized that taking away the emotional component would make eating so simple.
Turns out, with the Finally Free strategies, eating is very simple:
The body gets hungry, and I feed it!
I went through the Finally Free program myself
This simple series of workshops can be done online, with minimal time and investment.
And now I am sharing these workshops with you, so that you can…
1. Overcome emotional eating
2. Discover what you're really hungry for in life
3. Trade confinement for freedom
4. Trade restriction for fullfillment
5. Make peace with food and your body
6. Learn the secrets of successful implementation
I'm Dr. Caroline Huarte. I'm a Licensed Clinical Psychologist, Behavior Analyst, Functional Nutritional Therapy Practitionar, and Certified Integrative Mental Health Professional. I am also a certified Finally Free Instructor.
For years I ate the standard American diet. I gained weight. I counted calories, weighed my food, restricted what my body was calling for, and overexercised. And I got nowhere. All I got was continued weight gain, digestive issues, brain fog, and endless fatigue. I even ended up in the hospital.
It wasn't until I ditched the sugar, moved to a whole foods nutrient dense diet, and harnessed the principles taught in the Finally Free program that my progress took off!
With delicious whole foods and the strategies I learned, I healed my body, improved my energy and vitality, and became Finally Free from emotional eating.
My training in mental health, behavior change and functional nutrition provides the perfect combination of skills to help you on your journey to being Finally Free. I can't wait to share these incredible workshops with you!
The 7-week Journey that Lasts a Lifetime
These workshops turn the chaos and compulsion of emotional eating into peace and contentment within 7 short weeks.
Blood sugar levels balance within 2 weeks.
Digestion improves within days.
Mental clarity improves in a week.
Energy and vitality appear in a week.
The time you save overcoming emotional eating is time well invested!
The Non-Diet to End ALL Diets!
Build confidence While Gaining Control
Imagine eating delicious satiating meals every night, and STILL waking up leaner… This is not just another "diet."
Finally Free breaks the rules and goes against many common accepted "truths", such as:
1. Weight loss is just about eating less and moving more. This couldnt be farther from the truth. It's all about quality!
2. Don't eat past 6pm. Research shows that meal timing doesn't matter!
3. Eat small portions more often. There is no research to show that increased meal frequency improves health!
4. Cut out all carbs. Carbs are actually an important macronutrient!
Is it Time to be Finally Free?
People love the freedom of Finally Free, the energy/mental focus and the ability to have their cake and eat it too.
It's not like Paleo, Atkins, or even Keto. It's not about that. It's also not based on long hours in the gym, or handfuls of supplements. It IS based on eating wholesome, real food.
A lot of people believe changing the way we eat has to be strict or hard. Not true! For many, this is the easiest program they've ever followed. It is designed to be a lifestyle change, not a diet you go on for two weeks. Any permanent behavior change has to be easy to implement for it to work.
Hundreds of people have gone through this program and have experienced amazing success!
Get Extraordinary Results Like These
Finally Free Transformations
Navigating a World Full of Sugar
"When I started, I just didn't realize how far I still had to go with sugar addiction. I learned how to look at my food better and figure out how to manage portion size and quality of the foods I was eating. The Finally Free program has wonderful exercises that help engage the learning process. The workshop teaches you how to navigate a world filled with sugar."
-Natalie G. 
My Past Was Effecting my Present
"This program has been life changing and helped me to awaken my inner warrior! For me, it's not the food I needed freedom from, it's the negative thoughts, limiting beliefs, and suppressed emotions. One of the most freeing things has been slowly working through past trauma and letting go of my victimhood. I didn't realize how much living in the past is effecting my present. And even though there is so much that is unknown right now and I have a long way to go, I look forward to changing my thought patterns every day, and I really do feel like I'm finally free."
– Anthea M. 
Buried Emotions Around Food
"I came into the Finally Free program not knowing how "deep" this would go. Beyond diet or foods we "should" eat, we looked at why we eat, why we are hungry and what emotions are we trying to feed. I've appreciated the enthusiasm, wisdom and great coaching! I look forward to continuing my journey with the Maintenance program to continue working on 68 years of buried emotions around food."
– Beth B. 
Helping Me Figure Out How to be My Healthiest
"This program is a great combination of helping you figure out what to eat to be your healthiest with strategies for how to achieve your food and lifestyle goals. Most programs I have done in the past either focus on telling you exactly what you must eat, no slips allowed – OR- they focus on your mental health and why you eat poorly and are unhappy. For me, this program has provided an excellent combination of the two."
– Ruth L. 
Finally Living My Best Life
"I've struggled with weight for most of my life. I've tried every diet, restricting calories/increasing exercise, cutting out carbs, even diet pills, and nothing worked, nor was it sustainable. The real difference between this workshop and other programs is it's emphasis on the psychology of food and our relationship with it. I have learned to recognize the little voice in my head that was always putting me down and sabotaging me, and I've learned to overcome it. I now am meal-prepping, exercising, and incorporating more self-care into my everyday routine. I feel less pain/inflammation, and I have more energy/motivation. This program is way more than just about weight loss. I feel like I'm finally living my best life, and am finally free."
– Alex G.
Feeling Better Than Ever
Sugar, sugar, sugar – that's all I wanted when I started Finally Free. The "No Sugar Challenge" was very difficult for me, but Caroline was so encouraging and supportive that I did it! It wasn't easy, but it has ben 55 days and I am feeling better than ever. The timing for this workshop could not have been better. I am having an easier time dealing with all the COVID-19 stuff without a lot of sugar induced mood swings. Thank you so much!"
– R.L.
Change That Lasts!
"Finally Free gives about a zillion tools to support change and make it change that lasts!! I am loving having so many new tools that help with making new habits and keeping the habits and making them mine. This is an amazing asset for looking closely at myself and understanding how I'm getting stuck. And then freeing myself."
– Valerie N. 
I Harnessed Self-Love & Self-Trust
"The Finally Free program is such an amazing resource. The dietary guidelines set forth in this program will help to propel any individual toward greater health and vitality. But knowledge of what to eat and what not to eat is not the end all be all. What is often overlooked is the mental and emotional blocks that get in the way of people making positive lasting changes in their life. I see the program having far-reaching benefits for people. I received so many gifts going through this program myself. I learned to tune inward and attend to my physical and emotional needs. I identified and challenged the limiting beliefs that have been holding me back in life. I was able to understand the nature of my true reality, rather than the one that has been pushed on me. Most importantly, I harnessed self-love, self-trust, and self-care. In essence, I learned to be my best-self. The tools taught in this program extend far beyond learning how we use food to sooth ourselves. They are tools for helping individuals to live their best lives."
– C.H.
Unlearn Old Habits That No Longer Serve Me
"The Finally Free program offers a platform for me to unlearn old habits and responses that are no longer serving me. To identify them, accept them, find gratitude for them, and then practice who I really want to be in the world. I believe that how you do one thing is how you do everything and that becomes your practice."
– Shannon L. 
Get Strategies, Tips, & Empowerment Delivered Weekly
7 (2-hour) Weekly Live Online Workshops: All fully detailed with strategies, homework, and mindset hacks. Lose weight and gain confidence while you discover how you use food to meet your emotional needs, and how to overcome emotional eating once and for all. You will NOT be bored. You also get support and acc countability from your fellow group members!
30 Day No Sugar Challenge: Designed to get you out of the cycle of sugar addiction and back on track with mental clarity within 2 weeks. You will get more energy, your digestion will improve, hormones come into balance and you will experience amazing vitality… and weight loss is likely a postive side effect!
7 Participant Workbooks: Each workbook contains material and insights to help you understand why what you've been doing is not working, and give you a clear path to a new way of doing things that will get you results.
Lifestyle Guidelines: After the 30-day challenge is over you will be guided into a lifestyle that is easy, delicious, and flexible. You will find that you really can have your cake and eat it too. This is where you learn to self-govern effectively around food and gain strength and confidence.
VIP Pass to My Private Facebook Group: One of the most critical factors in transformation is support and accountability. You'll get both of those in unlimited amounts as a member of my private Facebook community.
Personalized Coaching with Caroline: This is worth the price of admission alone. I get to answer all of your questions lives, so you never have to worry about what you're doing and rest assured that your path is always dialed in and getting you the best results possible.
Each Week Takes You on a Journey
Here's your weekly sesion breakdown:
WEEK 1: This first week is all about a 30-Day No Sugar Challenge, which takes you out of the cycle of food cravings and sugar addiction fast. You tap into your outer resources and set your environment up for success and learn how to deal with an unsupportive person if you have one in your life. This will give you more energy, mental clarity and feeling in control.
WEEK 2: You'll learn how to tap into your inner power. This will give you the courage you need to make the change you desire successfully. You will create an Inner Warrior, a "No Thank You Phrase", and an Emergency Mantra. These are designed to empower you and move you away from the belief that you can't, to a place where you know you can.
WEEK 3: You will discover how you use food to meet your emotional needs and find more fulfilling ways to meet those needs. This is where you separate emotional hunger from physical hunger and discover what you really hunger for in life.
WEEK 4: You will learn how to separate physical hunger from emotional hunger even further with intuitive eating. No more Atkins, Paleo, or Keto diets. You will tap into your own inner guidance with intuitive eating. Intuitive eating is the art of self governing around food effectively. You will discover your hunger signal, your satiation signal and learn to trust your physical body and enjoy food without guilt or shame. Food tastes SO much better when you eat intuitively!
WEEK 5: The 30-Day No Sugar Challenge ends, and you move into the Good Decisions Lifestyle Guidelines. Because life is too short not to eat chocolate. You'll learn an amazing strategy that will help you deal with your thinking mind and all it likes to thrash you with. You'll entertain the idea that perhaps you are enough, just as you are. This is the beginning of being at peace with food and your body.
WEEK 6:
 

Week 6 is when you obtain the knowledge and strategies to deal with the things that get in the way of your long-term success. You will learn how to deal with negative thoughts, limiting beliefs, and unruly emotions so you can successfully transition from where you are to where you want to go.

 
WEEK 7: Week 7 is the last of the weekly workshops where you will learn how to move successfully through the 6 Phases of Change for long term success. In this workshop you get a beautiful glimpse of who you are beyond your thoughts, beliefs, and emotions and what it's like to be Finally Free and at peace with food and your body.
The Investment of a Lifetime
The 7 (2 hour) Weekly Workshops ($2100 Value)
(1) 30 Minute discovery call with Caroline ($100 Value)
Access to My Private Online Community Page (Priceless)
20% Discount on Individual Coaching During the Program
Total Value: $2,200
Promotional Price: $997
Total Savings: $1,203
The First 5 to Sign Up Receive a FREE Book!
"Good Decisions… Most of the Time"
 

is not just another diet or nutrition book. It's an adventure into the foundations of nutrition and the inner workings of your body, where even the smallest change can bring about a dramatic shift in how you look and feel.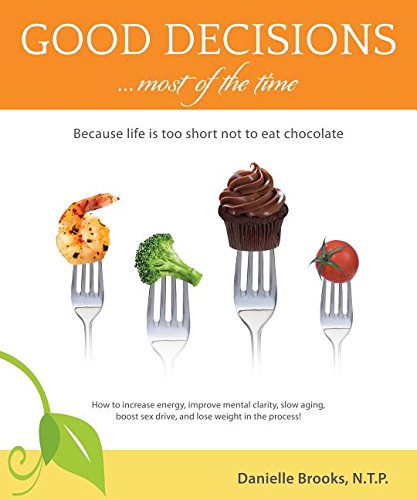 What You Will Learn:
– The foundations of nutrition
– How to deal with powerful emotions and food cravings
– Which foods increase mental clarity and which foods dull the mind
– How to eat to increase energy and vitality
– Which foods pack on the weight and which ones help you shed it
– Which foods decrease sex drive and which foods support it
– How hormonal imbalances affect sleep, energy, and mood, and how you can use food to bring hormones back into balance.
– And much, much more!
A $27 Value!
Refer a friend, and receive an additional $100 off of your enrollment!
100% Money Back Satisfaction Guarantee
If the workshops don't jive, just let me know. I will refund you for all remaining workshops with no questions asked. 
The only thing worse than failing is not trying at all.
Regret only happens to people that don't invest in themselves.
If this resonates with you, I urge you to take action today.
Want to chat in person?
Explore the possibilities?
Reach out today:
Dr. Caroline Huarte
(949) 370-4382